Making a model of Stegotetrabelodon syrticus
---
Stegotetrabelon syrticus is a primitive elephant found in the Late Miocene deposits of Abu Dhabi in the United Arab Emirates.
The Abu Dhabi Islands Archaeological Survey (ADIAS) is currently preparing an exhibition of Miocene fossils to be held in Abu Dhabi in early 2004. Part of this exhibition will include a reconstructed model of this curious four tusked elephant.
To see some of the data being used to help with the reconstruction click here.
Some pictures of the work in progress are provided below. The model is being made by Abdul and Izhar Hafeez from the Private Department Taxidermy Unit in Abu Dhabi.
---
Updates:
5 October 2003
16 October 2003
22 October 2003
26 October 2003
5 November 2003
15 November 2003
7 December 2003

---

5 October 2003

A tusk is carved for the model from a whale rib, collected by beachcombing in the UAE.

---
16 October 2003
Outline of the model is prepared.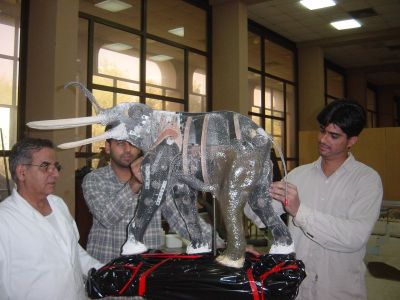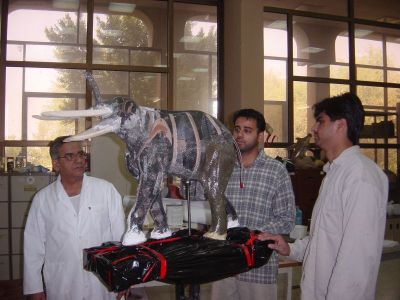 ---
22 October 2003
Started putting on the muscles and preparing test areas of skin for the legs.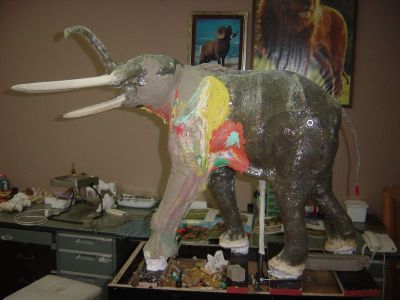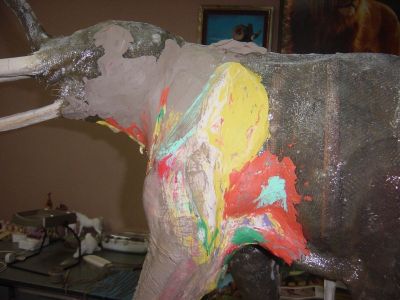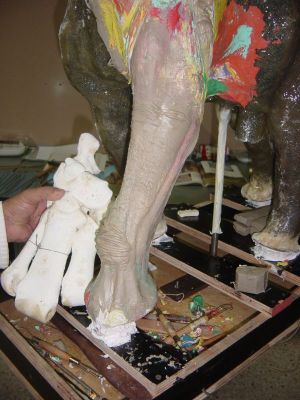 Holding a modern rhino foot next to the model leg to compare the size.

---
26 October 2003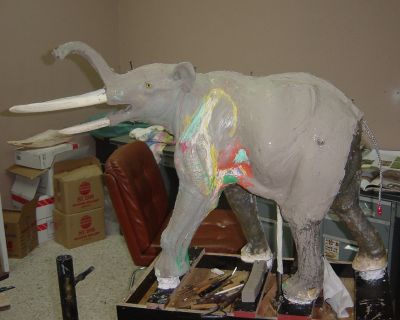 The left side of the head, trunk and part of the body are now modelled. The shape and position of the skull and mandibles have been modified to take into account the morphology of known Late Miocene specimens of Stegotetrabelodon syrticus from Shuweihat and Ruwais, Abu Dhabi emirate, UAE.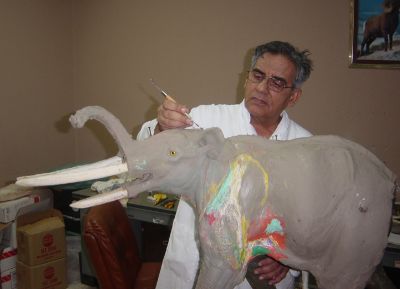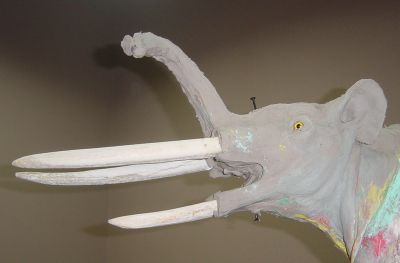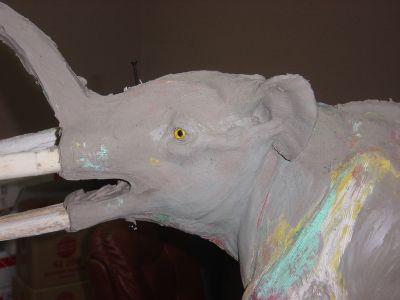 ---
5 November 2003

The model is really starting to take shape now. Muscles and wrinkles are now being added.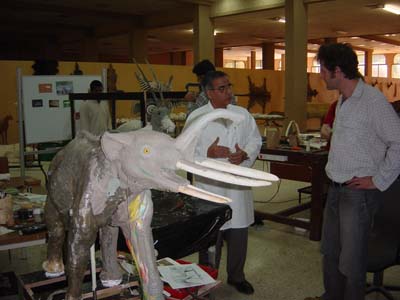 Abdul Hafeez discusses a point about the model with Dr. John Stewart, currently in Abu Dhabi.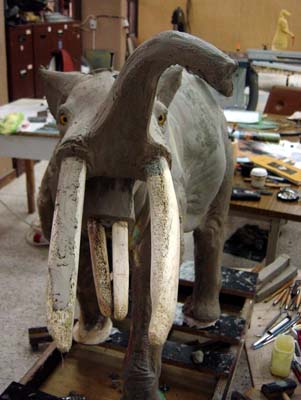 Close-up of the head.





Closer view of the body of the model.

---
15 November 2003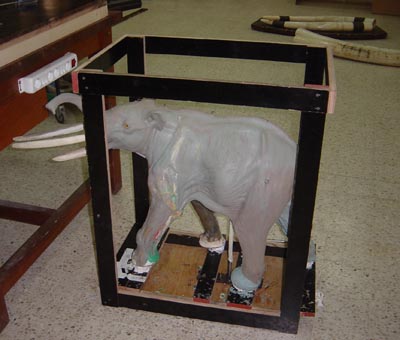 The model is put in a wooden frame to check the measurements and body proportions.


---
7 December 2003




Work has now commenced on the trunk and on completing the cranium.





Abdul Hafeez examines the model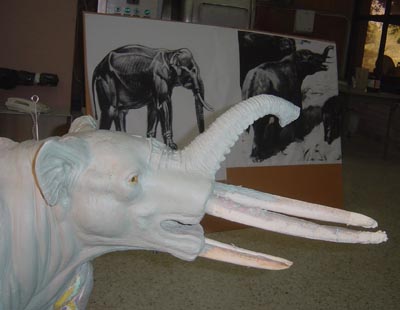 Close-up of the cranium.





Close-up of the details modelled on the ear.


---
14 December 2003
Click here to view an MPEG video clip of the model rotating inside its temporary frame.

Warning ! - this is a large file (sized 4.48 MB) so it may take some time to download.
---